Victoria Beckham walked her debut Paris Fashion Show runway in tears, taking a moment to hug husband David Beckham before closing out the show.
The 48-year-old fashion designer walked down the runway on Friday in a black midi dress straight from her collection, before being overcome with emotion.
The former Spice Girl hid her face in her hands and bowed her head as she walked, but when she spotted her husband in the front row she sped up her pace to hug him
READ MORE: Seven spicy revelations from Mel C's memoir, Who I Am: My Story
Victoria's best friend, actress Eva Longoria, was seated next to David, and also looked delighted to see her friend's success.
Also in the crowd were her three younger children – Romeo, 20, Cruz, 17 and Harper Seven, 11 – with her eldest, Brooklyn, 23, making a surprise appearance with his new wife, Nicola.
The two made a secret entrance from the back of the venue and surprised Victoria before the show started, with "lots of hugs" going around, according to a source who spoke to the Daily Mail.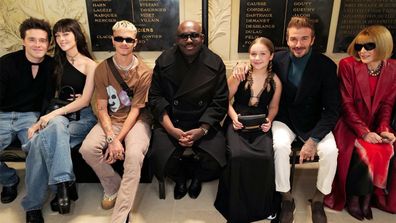 The family also reunited after the show to celebrate with cocktails, with the source saying, "There were a lot of smiles and a lot of love in the room, it was a lovely family atmosphere."
READ MORE: New picture of Prince Harry and Meghan Markle at engagement before Queen's passing
The Peltz-Beckhams' appearance at Victoria's show comes amidst rumours of a feud between the mother and daughter-in-law.
David Beckham reportedly "read the riot act" to his eldest son after a recent interview given by Nicola hinted at tension between the pair.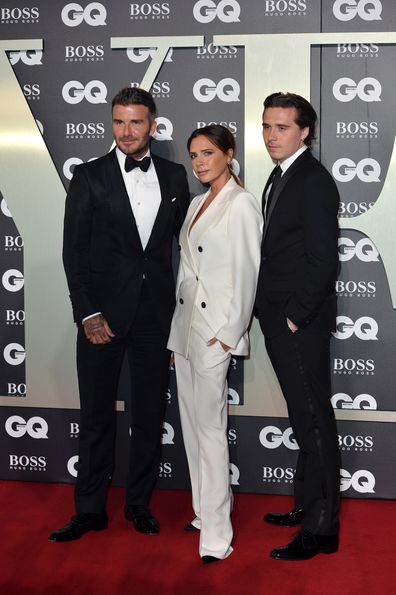 According The Mail+, David "had it out with" Brooklyn over Nicola's Grazia USA interview, saying, "We don't do this in our family – and you know that we don't do this in our family."
Insiders claim David then told Brooklyn: "What happens next is up to you, but we are done with the drama."
"David was really appalled by the Grazia USA interview because it seemed to be washing the family dirty linen in public and he said that Romeo and Cruz [Brooklyn's brothers] are also hurt by it," the source claimed.
READ MORE: Princess Mary defends Queen Margrethe's decision to strip grandchildren of their royal titles
In the Grazia USA interview, Nicola had revealed that she had been ghosted by her future mother-in-law after they had agreed she would be making her wedding dress.
"Well, I was planning on wearing Victoria's wedding dress," Nicola told the publication.
"I was truly so excited to be able to wear a design that my future mother-in-law created. We connected to start designing the dress, and then a few days went by and I didn't hear anything."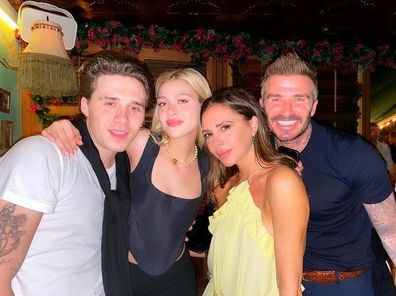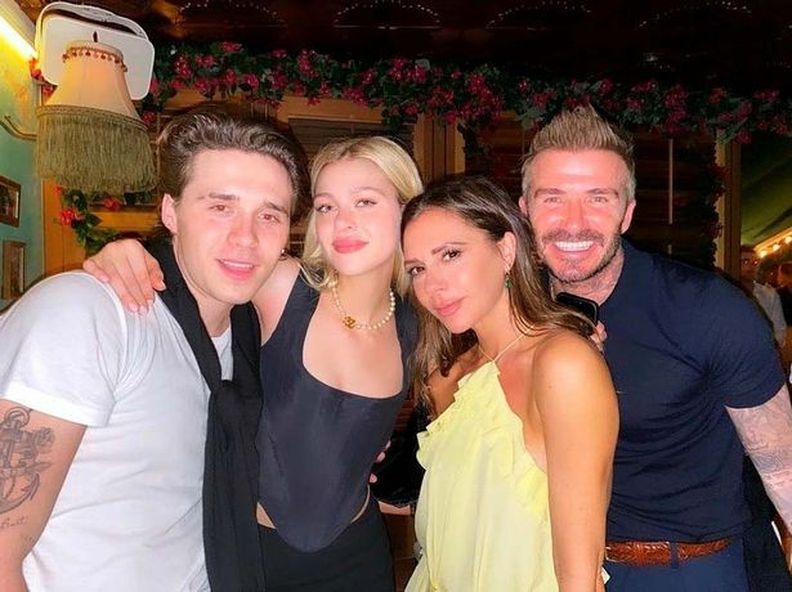 "Victoria called my mum and said her atelier couldn't make it. So, I spoke to my mum and Leslie [stylist Leslie Fremar], and I was like, 'Well, unfortunately, this can't happen, so what's the next step?'"
READ MORE: Colin Jost reveals wife Scarlett Johansson's biggest parenting fail
Nicola says the rumours about the dress are a "bummer", and that David and Victoria are "great in-laws."
"When I read things that say I was never planning on wearing a [Victoria Beckham] dress or things like that, it does hurt my feelings. I try not to let it, but it's just not the truth," she told Grazia.
"It's just a bit of a bummer when you're like, 'Oh, people think that,' but it's just not true."
For a daily dose of 9Honey, subscribe to our newsletter here.