[ad_1]

Iconic rocker Patti Smith has hit back at critics who chastised her decision to step back from the spotlight in favour of nurturing her young family in 1980.
In a poignant interview with Harper's Bazaar, Smith, 75, admitted there was one critique "that still stings" which was her decision to leave public life for 16 years to raise a family.
Smith reflected on a cartoon of her that appeared in a New York newspaper, The Village Voice, in which she was depicted with hooves and sagging udders. The cartoon was captioned "Domestic Cow."
READ MORE: Australia's beloved first celebrity doctor dies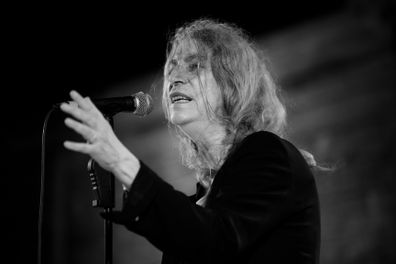 "I knew the territory of being sort of a rock star, or smoking pot and writing poetry at night, but this other territory that I didn't excel in, I found the smallest joys in it," Smith explained in the interview.
Smith's choice to leave the public eye for 16 years was seen by some as an artistic abandonment of the very things her music stood for.
However, the Gloria singer says this period of her life was deeply and artistically enriching. 
READ MORE: Miley Cyrus' mum dating Aussie actor after sudden divorce
"I would sew my husband's buttons on his shirt or his jacket. I knew it looked pretty amateur … but I felt proud doing that and stitching my daughter's skirt – the little pleated hem of her skirt," Smith said.
"Such a chore, but when I finished it, I felt a sense of accomplishment. You find you can do many things," she added.
The People Have the Power singer married Fred "Sonic" Smith of MC5 and moved to Michigan to begin a family. Patti and Fred would go on to have a son and a daughter, Jackson and Jesse.
Smith would re-emerge in the mid-90s to reignite her music career, releasing Gone Again, which featured a song which was a tribute to the late Kurt Cobain.
For a daily dose of 9Honey, subscribe to our newsletter here
[ad_2]

Source link