[ad_1]

English-Australian singer Peter Andre has admitted he's been "up and down with emotions" as he spends time with his 86-year-old mum, Thea, whose health has been deteriorating.
The 49-year-old Mysterious Girl singer returned to Queensland from their home in the United Kingdom over the holiday period with his wife, Emily MacDonagh, and their children to be with his family Down Under.
Taking to Instagram, Andre shared a montage of photos of his family, including his children with their grandmother, alongside the message: "These last two weeks have meant the world to us. Mum, you have no idea how much we love you and Dad. Debs, Savs and Joe thanks for everything."
READ MORE: 'True' reason behind Harry, William's alleged physical fight revealed
In one photo, Andre grins as his mum cups her son's face, also smiling from ear-to-ear. In another shot, MacDonagh embraces her mother-in-law while wearing a mask to protect her health.
Andre's children with ex-wife Katie Price, 17-year-old Junior and 15-year-old Princess, also posed with their grandmother in a family photo.
Fans rushed to Andre's comments to wish him and his mother well, and express how pleased they are to see his return to the land he grew up in.
"Such beautiful photos, you can see how happy your mum is and the love she has for you all is written all over her face," one fan wrote.
While responding to the comments, Andre revealed how it's been an emotional trip for the family.
READ MORE: Royal 'response' to Harry's memoir claims trickles in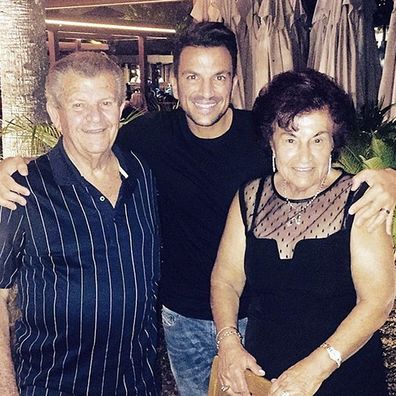 "For me, it's about seeing my mum and dad and the kids and Emily seeing them. That's what it's about, they're getting very old now and it's always an anxious time of year," Andre wrote in one comment.
"I've been up and down with emotions," he said in another. "It may not show in these pics but I'm struggling."
Last year, Andre visited his parents and said he was happy to "be spending more time [in Australia] because of my mum now."
READ MORE: 'Happened so many times': Kylie Jenner splits from long-term boyfriend
In September, Andre revealed he'd been trying to relocate his wife and children to Australia as his mother's health declines but it had been a logistical nightmare.
"We want to get out there as soon as we can and stay for as long as possible, but it's tricky with the kids' school," he wrote in his new! magazine column.
"If it all goes to plan, it'll be December and we'll all be going to Oz as a family. We want to get out there as soon as we can and stay for as long as possible, but it's tricky with the kids' school. They have different timings, which makes it complicated."
"Mum's struggling at the moment, though. She's not doing great," he wrote at the time.
"She's suffering a bit and declining. I was with her a few months ago. We've just got to be with her as much as possible. It's just age. She's got all sorts of things going on now."
For a daily dose of 9Honey, subscribe to our newsletter here.


[ad_2]

Source link