[ad_1]

One Tree Hill star Bevin Prince's husband William Friend has died at the age of 33 after the boat he was in was struck by lightning.
British-born Friend, who was the CEO of a digital media company, was declared dead in the ambulance near his home in Wilmington, North Carolina, after a freak bolt of lightning hit his boat near Masonboro Island during a storm.
According to WECT News, emergency responders attempted to resuscitate him, however he died on the way to hospital on July 3.
READ MORE: Jennifer Aniston's act of kindness to intern after security guard interaction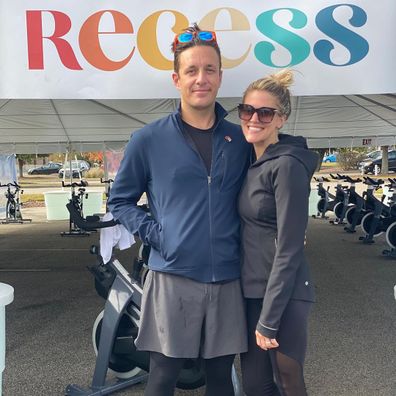 READ MORE: Prince Harry's police protection facing court showdown
Friend had been married to actress Prince, 39, since 2016 and the couple moved to North Carolina from New York at the start of the COVID-19 pandemic.
A close friend of the late businessman, actress Odette Annable, shared a moving tribute on Instagram in the wake of his death.
"The unimaginable had happened and we have to say goodbye to another friend, @britwilliam, my best friend @bevinaprince's beloved husband," Annable wrote.
"Will, it feels surreal writing this. Mostly because it feels like you were just getting started. The life and love that you gave to my best friend made it feel okay that we were thousands of miles apart."
In her heartbreaking message, Annable said Friend had never been happier after moving to his native North Carolina.
She also paid tribute to his wife, Prince, as the pair struggle to come to terms with the loss.
READ MORE: British TV presenter's husband hospitalised after 374-day COVID-19 battle
"The passion to help people, to build your business, to find happiness like I'd never seen from you living in North Carolina with Bevin. You were perfect for her in every way. You supported her dreams, you made her feel seen, you adored her with every bit of your soul and I will forever be grateful to witness that kind of love," she continued.
"Being here with Bevin, hearing her share stories about you and your love breaks my heart for her, because she lost the love of her life and the world lost a really really good one."
Prince, who starred as Bevin Mirskey on One Tree Hill from 2004 until 2012, posted a message about Friend's death on her business Instagram.
READ MORE: BBC News host caught relaxing during live broadcast
"We greatly appreciate the outpouring of love and support we've received from our Recess community. Will's knowledge, guidance, and support is the foundation that Recess is built on," the cycling company wrote on Tuesday alongside a photo of the couple.
"There was nothing Will respected or valued more than the American Dream, entrepreneurship, and women in business."
The statement continued: "We know he wanted to see this business continue to great success and lead to the employment of many more people. Creating rewarding and meaningful jobs for others was the legacy Will wanted to leave."
For a daily dose of 9Honey, subscribe to our newsletter here.


[ad_2]

Source link