[ad_1]

Nicola Peltz Beckham has thanked her father for always having her back following reports of a bubbling feud with her mother-in-law Victoria Beckham.
The 27-year-old actress shared a photo of her and her billionaire dad, Nelson Peltz hugging to her Instagram Stories, along with a slightly biting caption.
"Thank you for always having my back I love you so much dad," she wrote, along with the sweet photo of them hugging.
READ MORE: Socialite 'outrage' over Fergie's 'dirty' $12M purchase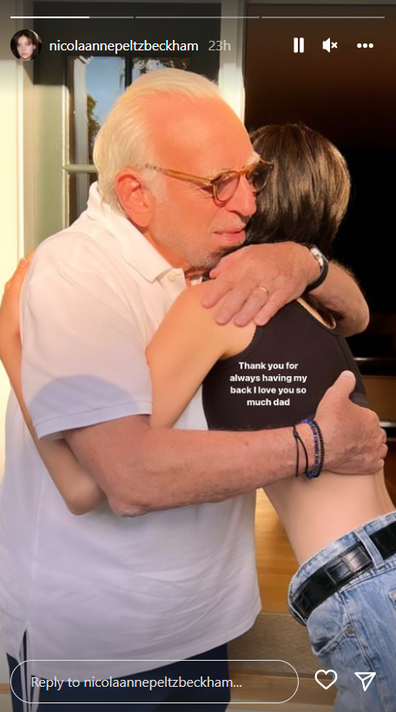 READ MORE: Anne Heche 'joked' about drinking in podcast before horror crash
She also posted another selfie to Instagram where she wore dark designer sunglasses and shared a message thanking the fans who had supported her over the last few days.
"Thank you from the bottom of my heart for all your messages," she wrote. "It means so much to me. sending you all my love and light your way ✨🐬❤️ kindness is such a powerful thing."
Husband Brooklyn Beckham, 23, was quick to share some words of comfort under her post:
"My baby xxx" he wrote.
For a daily dose of 9Honey, subscribe to our newsletter here
READ MORE: Neighbour's passive-aggressive parking note praised for its creativity
Rumours have circulated of a feud between Victoria and the newlywed since Nicola and Brooklyn's wedding on April 9 this year, with Page Six reporting that the pair are not on speaking terms.
Peltz recently hinted at the impact the feud was having on her mental health, posting some posed snaps of her with tear-stained cheeks and bloodshot eyes.
"Sometimes I find it hard to show the sad bits of me. Growing up with seven siblings and two very strong parents made me really tough, they hammered it into me to not let people bring me down or hurt my heart," she wrote in the caption.
"We all have days where people make you feel bad and it's okay to be hurt by it. I love you all so much and truly appreciate all of your support."
A source recently revealed to Page Six that in the months before Nicola and Brooklyn's Miami wedding, the actress and her wealthy family did not want Victoria "to be any part of the planning".
The source claimed that Nicola wouldn't clue the former Spice Girl in on anything and "communication was minimal".
Apparently, ever since the extravagant affair – which was held at the luxurious Peltz family estate – it's been "non-stop petty drama" and the tension is coming between Beckhams and their son.
There is also speculation of discontent between the Beckhams and Peltz family, with some claiming the feud between Victoria and Nicola stems from the treatment the Beckhams received from the Peltz family before and during the wedding.


[ad_2]

Source link