[ad_1]

Kanye West has stormed out of a podcast interview after the host questioned his recent controversial anti-semitism remarks.
Before up and leaving, the rapper said he felt the Timcast interview with US podcaster Tim Pool was a "set-up" so he took off and left the studio just 10 minutes into the episode.
"To come in here, I feel like it's a set-up to be like defending … I'm literally going to walk the F off the show, if I'm sitting up here having to, you know, talk about, 'You can't say it was Jewish people that did it,'" a heated West said moments before he abruptly walked out. 
READ MORE: Jimmy Barnes cancels Aussie shows for urgent surgery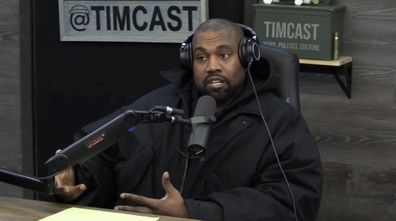 Prior to the sudden departure, Pool pushed back on the rapper's controversial views — a move which clearly angered the Grammy winner. 
"You went right into the antisemite thing," Pool said. "I think it's something that should be talked about, but if if you start bringing this up, you're gonna ask my opinion on it, I'm gonna disagree with you."
West fired back: "I didn't ask your opinion on it. I don't care about anybody's opinion, bro. I lost. They tried to put me in jail, they blocked the $2 billion I had." 
READ MORE: Neighbours actress battling 'extremely aggressive' cancer
"You're not gonna to take my pain away. Right? The Jewish people say it's the Holocaust, this happened, and you can't say anything about it. We can't take their pain away," he continued.
"No one's gonna denounce the fact that they tried to lock me up … I'm getting hosed down every day by the press, and financially, I'm just standing there. And when I found out that they tried to put me in jail. It was like a dog was biting my arm and I almost shed a tear, almost, but I still walked in stride through it."
"I think they've been extremely unfair to you," Pool replied, to which West countered: "Who is 'they,' though? We can't say who 'they' is, can we?"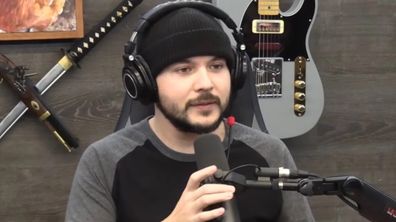 When American white supremacist political commentator Nick Fuentes, who was also a guest on the show, said it was the press, Pool thought otherwise. 
"What do you mean it's not [the press]?" Ye snapped at him before taking off his headset. 
As Pool began to respond, the rapper stood up and began walking out of the room. 
"You're leaving?" Pool asked Ye as he stormed out. "He's gone."
Watch the video above.
Pool explained that while he did not want West to storm out, he was not going to sit there and be a 'yes' man.
"You guys want to bring that stuff up and think we're not going to have a conversation?" Pool told the audience. You think Ye's gonna come in here and say, 'Here's my pain, here's my suffering' and I say 'I hear you.' And then he's gonna say 'And it was Jewish people' and I'm gonna be like, 'OK, but don't you consider' 'I'm not gonna do this. I refuse."
READ MORE: Why rocker Patti Smith disappeared from the spotlight for 16 years
West sparked controversy back in October when he said he tweeted about going "death con 3 on Jewish people". It is likely this was a reference to DEFCON 3 – the US military's alert system.
West was restricted both on Instagram and Twitter after the tweet, and he was dropped by his collaborators including Adidas, Gap and Foot Locker among the many who have cut ties. 
For a daily dose of 9Honey, subscribe to our newsletter here.
[ad_2]

Source link